Customer Reviews
02/27/2022
Asia

Canada
I recommend this product
Love this unit
I was really happy with this wig. It was my first lace frontal and I was able (just barely) to install it myself. There was a learning curve for sure, but I bought this unit for Halloween so it didn't need to be absolutely perfect. Shipping was fast and it was great quality. Since it was for Halloween, it wasn't my intention to convince anyone it was real, but I had everyone fooled.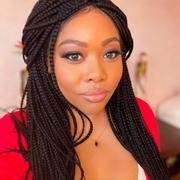 Thanks! Great customer care here. I checked out my wig. Looks great but cap is a little big. Great buy overall though. Your customer service makes it perfect for the money
I'm loving my box braids
I'm loving my new wig. It feels a bit too heavy for me but overall it's looks really good and very neat!